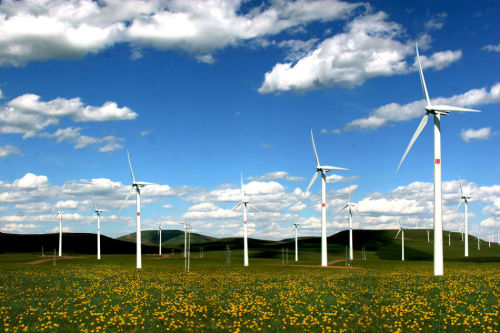 The "2012 China Wind Power Development Report" (hereinafter referred to as the "Report") recently released points out that with the development of China's wind power industry, after years of hard work, the relevant National Standardization Technical Committees have initially established a complete set of wind turbines, Components, materials, design, testing, and other aspects of the wind power standard system.
Land-based wind energy resources professional observation network built
The "Report" pointed out that in order to better meet the needs of sustainable, orderly and rational planning and development and utilization of wind energy resources in China, the China Meteorological Administration has taken the lead in 2008 under the support of the National Development and Reform Commission, the Ministry of Finance, and related departments. The National Wind Energy Survey and Evaluation Project was implemented. During the implementation of this project, the China Meteorological Administration has adopted standardized and uniform standards for wind energy resource planning and site selection for wind farms, and established 400 wind measuring towers with a height of 70 to 120 meters in the wind energy resources available area in mainland China. A national professional onshore wind energy resource observation network was initially established. The continuous operation of the professional observation network can provide basic support for carrying out wind energy forecasting operations and post-evaluation of wind farms.
It is understood that the China Meteorological Administration's Wind Energy Solar Resource Assessment Center is based on the successful experience in the introduction and absorption of wind energy numerical simulation assessments in Canada, Denmark, and the United States. It is improved and optimized based on China's geography and climate characteristics, and advanced GIS analysis techniques are used. A wind energy resource assessment system suitable for China's climate and geography features has been developed. The horizontal resolution of numerical simulation is less than 1 km. The wind energy parameter simulation accuracy can meet the needs of wind power planning and wind farm site selection at all levels.
In addition, during the implementation of the project, the China Meteorological Administration developed a standardized and applicable wind energy resource calculation and evaluation system, established a wind energy resource database sharing system, and compiled and refined a series of normative technical documents for detailed examination and evaluation of wind energy resources. All these achievements will play an active role in carrying out a detailed investigation of regional wind energy resources and predicting wind power in the future.
The basic system is basically established
China's wind power standards include national standards and industry standards, and are under centralized management by the China National Standardization Management Committee. The national standards are formulated by the national professional standardization technical committees, and the technical requirements are unified throughout the country. For technical standards that do not have national standards and need to be unified within a country's industry, industry standards may be formulated by relevant administrative departments of the State Council or relevant industry associations authorized by the State Council.
Taking the relevant standards of large-scale grid-connected wind turbines as an example, by 2011, China has issued 40 national standards, of which 10 are from IEC standards and 1 is from AWEA standards. The standards cover the safety requirements and products of wind turbines. Performance, test methods, assessment of wind energy resources, wind farm requirements, etc. There are also 26 national standards under preparation, and some of them are being revised.
In addition to national standards, various related industries have also issued a number of industry standards for the wind power industry.
In March 2010, the National Energy Administration organized a meeting on the standardization of wind power in the energy industry in Beijing to fully launch the construction of the wind power standard system in China. At the meeting, the National Energy Administration announced the establishment of the Leading Group for the Construction of Wind Power Standards in the Energy Sector and the Expert Group for Wind Power Standard Construction in the Energy Industry. At the same time, the Energy Industry Standardization Technical Committee for Wind Power (hereinafter referred to as the Standardization Committee) was established. The Standardization Committee established the standards based on the division of responsibilities. The working group issued the "Wind Power Standard System Framework (Discussion Draft)" (National Energy Technology [2010] No. 16) and drafted seven categories and 173 standards, which provided an outline for China to establish and improve the wind power standard system. As a periodical work report on wind power standard system construction, on August 5, 2011, the National Energy Administration held the second meeting of the second session of the energy industry wind power standardization technical committee held in Beijing and the wind power standardization work conference for the energy industry. There are 17 important standards such as Large-Scale Wind Farm Grid-Connected Design Specifications and other technical standards that are urgently needed for the development of wind power industry, such as the integration of large-scale wind farms, offshore wind power construction, wind turbine condition monitoring, wind farm power quality, and wind power critical equipment manufacturing requirements. Filled the technology gap.
Wind turbine test capability is available
According to the accreditation of the China National Accreditation Service for Conformity Assessment, the third-party testing organizations currently engaged in wind turbine testing in China include the Wind Power Research and Evaluation Center of China Electric Power Research Institute, Zhongkejianheng Wind Energy Testing and Research Center and Northeast Electric Power Research Institute. Wind turbine electrical characteristics laboratory. In general, China has possessed the capability of wind turbine power performance testing, power quality testing, noise testing and load testing.
The "Report" pointed out that in order to meet the needs of wind power equipment on-site testing and development of wind power equipment type certification, China has already built two public wind power test platforms that have been put into operation. One is the national large-scale wind power grid-connected system research (experiment) center. Zhangbei Wind Power Test Base, and the other is the National Energy Wind Energy Solar Energy Simulation and Testing and Certification Technology Key Laboratory Baoding Wind Blade and Bearing Inspection Center.
Zhangbei Wind Power Test Base is an important component of the national large-scale wind power grid-connected system R&D (experiment) center under construction undertaken by the State Grid Corporation of China. It can carry out wind turbine low-voltage ride-through capability testing, power grid adaptability testing and wind and solar energy storage combined operation testing, etc. Sex research test work.
The National Wind Power Blade and Bearing Inspection Center is located in Baoding City, Hebei Province and is part of the national key laboratory for energy wind energy solar simulation and testing and certification. The testing center mainly consists of a blade raw material laboratory, a blade testing plant, a bearing inspection platform, a pitching system inspection platform, etc. It can complete the full-size blade structure test, non-destructive testing, blade including blade raw materials, blade parts and length up to 100 meters. Wind farm tracking test, and multi-megawatt wind turbine bearings and pitch system related tests, test conditions have reached the international advanced level. At present, the first phase of the test center equipped with blade and raw material testing functions has been put into operation. The second phase of the project is a test platform for bearings and pitch systems and is expected to be put into use in 2013.
China has obtained two approvals from the National Certification and Accreditation Administration for the certification of wind power equipment: one is the Certification and Certification Center, and is a third-party certification organization specializing in standard research and quality certification of renewable energy products such as wind energy and solar energy; It is China Classification Society Quality Certification Co., Ltd. It has extensive certification experience in ships and many other fields.
Chinese certification organizations can carry out wind turbine design certification, type certification, wind farm project certification and wind turbine component certification.
For Lithium Lithium Battery Intermediate series, We can supply many kinds of Lithium Battery Electrolyte Additives with good quality, such as Vinylene Carbonate , Fluoroethylene Carbonate , 1, 3-Propanesultone , Ethylene Carbonate , Lithium Bis(fluorosulfonyl)imide, Lithium, Bis(trifluoromethanesulfonyl)imide , and so on.
We have our own production factories and lab. We can develop new product according to customer`s require, because we cooperate with several university, please believe that we have research advantage. Our factory is in chemical industry park, gets produce license from government, can supply product steadily.

Lithium Battery Intermediate
Lithium Battery Electrolyte Additives, Vinylene Carbonate, Fluoroethylene Carbonate, 1,3-Propanesultone, Ethylene Carbonate, Lithium Bis(fluorosulfonyl)imide, Lithium, Bis(trifluoromethanesulfonyl)imide
Jinan Yudong Technology Co., Ltd. , http://www.yudongchemical.com