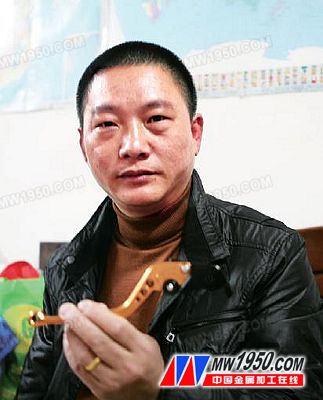 Wang Sunian, Chairman of Zhongshun Machinery Component Factory, Fuding City, Fujian Province
People who do production often want to diversify their business as much as possible, and have a wide range of products, from the upstream raw material production to the terminal retail. However, Wang Su Nian, the owner of "Zhongshun Parts" in Fuding City, Fujian Province, did not want to distract his energy. He specializes in the brake handles of heavy-duty locomotives (also known as adjustable levers or horns). However, just such a part has already made him busy, producing 20,000 sets per month, and the annual turnover is more than 15 million yuan. Since the start of business in 2004, he focused on how to make this hand-made variety. To the most complete, the design is the best, the processing is the most refined, and the whole is unmatched.
Into the Zhongshun Machinery Component Factory, with a total area of ​​about 300m 2 , many people will say that the 300m 2 processing plant is a small processing plant, but this small processing plant has become the world's leading heavy-duty locomotive manufacturer to compete for aluminum brakes. The important supplier. Of course, the development and expansion of Zhongshun Machinery Component Factory will become inevitable. A new factory building of 8000m 2 industrial zone will be completed, including 400m 2 display space and R&D center; "Zhongshun Parts" will be bigger. Large-scale, higher productivity greets heavy-duty locomotive manufacturers from all over the world including Honda, Kawasaki, Yamaha, Suzuki, Ducati, Apulia, Motorola, American Boer, British Triumph, German BMW and other international manufacturers. . In addition, Zhongshun also provides a complete supply of aluminum alloy brake handles for domestic high-quality motorcycles such as Fuxi, Qiaoge, Huaqi, Xunying, Liying, Xinjinzhan and Tianjian. The company plays a specific role.
| | | | |
| --- | --- | --- | --- |
| Previous page | 1 | 2 | Next page |
Antique Colors powder coating is antique finish Powder Coatings with highly decorative finishes consisting of a base color with a vein pattern of a distinctly different color.The base color is usually black,white or other colors. The vein pattern could be metallic(silver, gold or copper). To preserve its decorative appearance, Clear Topcoat is highly recommended for indoor or outdoor use. For more details please refer to official website ChinaPowderCoating.com .
Spray Powder Coating Paint,Crocodile Finish Powder Coating,Crocodile Skin Powder Coating,Crocodile Powder Coating
Jinhu Color Powder Coating Co.,Ltd , http://www.powdercoatingscolor.com